Smiling from Beer to Beer - Bigby's Pour House
Posted by: Eleni - 04-03-2012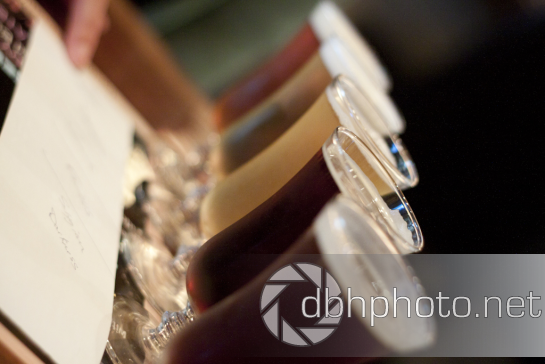 For some unknown reason the image I had in my head of what Bigby's would be like was a sleek and swanky drinking establishment. When we rolled up to our destination I wondered if we were at the right place. The building not only looks a bit out of place and lonely on the corner but not very intriguing either. I was quickly reminded not to judge a book by its cover and the advice was pretty on point. Instead of opening the door to the image in my head I was still pleasantly surprised to see a more warm and cozy type of beer joint.

There are three book shelves in the front entrance, one filled with the different wines they offer and the other two are filled with a plethora of craft brews. They offer everything from Tyranena Dirty Old Man to Bell's Oberon to Lagunitas Imperial Red. One of the beer shelves is what is either on draft or on tap (they have 9 taps I believe). The other beer shelf is filled with a wide assortment of beer bottles that patrons can vote for in the hopes that their chosen beer will get enough votes to make it on Bigby's beer list. Visitors use one of those Mancala stones to place their vote in their fav bottle and while you can't use a handful of stones to vote, placing more than one vote is allowed. While we were there we shared one of their flatbreads with chorizo and red peppers and a beer flight, which was awesomely on the house. The flatbread was all right but I hear it's all about the Muddy Pig flatbread with Nutella and bacon. Since this place is focused on the beer they serve and not so much the food their menu is fairly small. Nonetheless you'll find some decent eats not offered at your typical bar to accompany your beverages.

The beer-voting concept along with their large selection of beer from some of my favorite breweries like Lagunitas, Founders and Three Floyds are what make Bigby's stand out from many of the bars out there. It's certainly one of the best spots to drink in the suburbs and worth checking out. If I lived in the neighborhood it would definitely be my go to place for delicious beer and a laid back atmosphere.

Bigby's can be found at 1700 W Lake Street in Addison, Illinois.


blog comments powered by

Disqus